As of June 1, 2017, Placing your shipments on HOLD causes your shipments to stop permanently.  You can always RESUME shipments later by logging into your account.  So if you just need more time before your next shipment, set up a hold and resume later, whenever you're ready.  Once you resume, you'll receive your replenishment within 3-7 business days.
To set up your hold, or to resume your shipments, just log into your Account Console and click on the Subscription tab.
If you don't remember your password, just click on the "forgot password" link and we'll send you a new one right away.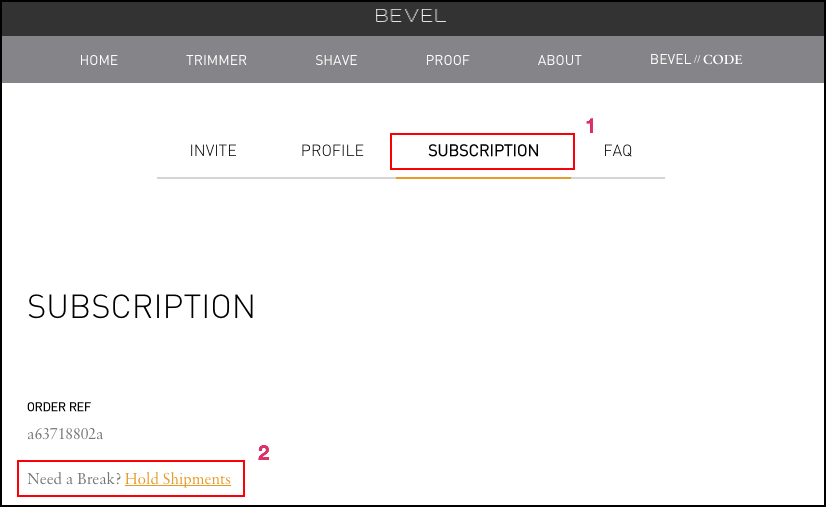 Please note:  Each 3-Month Bundle is paid in 3 monthly installments: $34.90, $29.95, and $29.95.  Your payment dates can be found in your Account Console.  The total cost for each subscription shipment is $89.85+ shipping ($4.95)
If your subscription is placed on HOLD prior to all three payments being processed, any remaining balance will be charged in order to start the hold right away.  Charges will include tax and/or duties where applicable.
If you'd prefer to let your payments fall on their monthly scheduled dates, you can wait to set your hold up after all three payments have processed as scheduled. 
As always, Bevel Support is glad to help!   If you need some help, feel free to email support@getbevel.com and we'll get you taken care of.  To expedite your cancellation, please be sure to include your reason for canceling and we'll take it from there.